Give the Gift of Wellness this Holiday Season
Just in time for holiday shopping, we are introducing The B12 LOVE Counter, featuring seasonal hand-picked products that can benefit you and your loved ones. Keep an eye out for some of our staff faves and featured products! To kick things off, B12 LOVE Founder and CEO Dr. Shannon has created the ultimate holiday gift guide to help you shop for your friends and loved ones.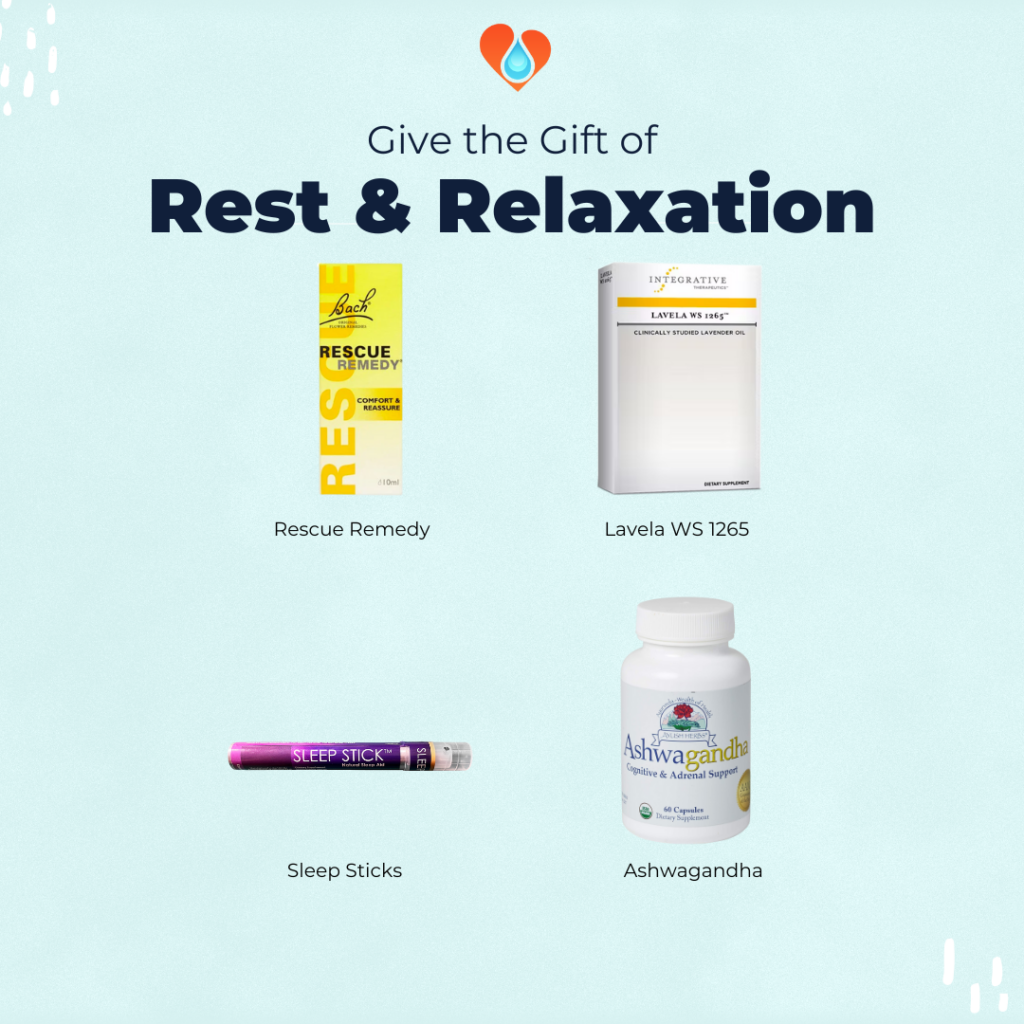 Give the Gift of R&R
Stress relief is key during the holiday seasons (busy moms, we know you hear us). B12 LOVE has some of the best products on the market to help you get through all of your holiday shopping without stress.
Rescue Pastilles and Rescue Remedy
Rescue Pastilles and Rescue Remedy are a B12 LOVE staff and client favorite. The pastilles are bite-sized and sugar-free, containing a homeopathic flower blend to help relieve stress. Rescue Remedy contains the same homeopathic flower blend, it comes in a liquid form with a dropper and is available for adults, children, and pets.
Lavela WS 1265
Lavela is a lavender oral essential oil in capsule form. These capsules are a natural way to promote relaxation and help you keep your zen amid holiday madness. Keep a few with you and take them as needed to help ease anxiety.
Ashwagandha
Ashwagandha is an adaptogenic herb powder that can help to support adrenal health. Taken once a day with a meal or a full dropper up to 3 times a day to help you stay energized and avoid adrenal fatigue.
Sleep Stick
Check out B12 LOVE's newest product! Available exclusively at B12 LOVE Lounges for the next six months. Sleep Stick is easy to use and a natural remedy to help you sleep and recover during and after the season's craziness.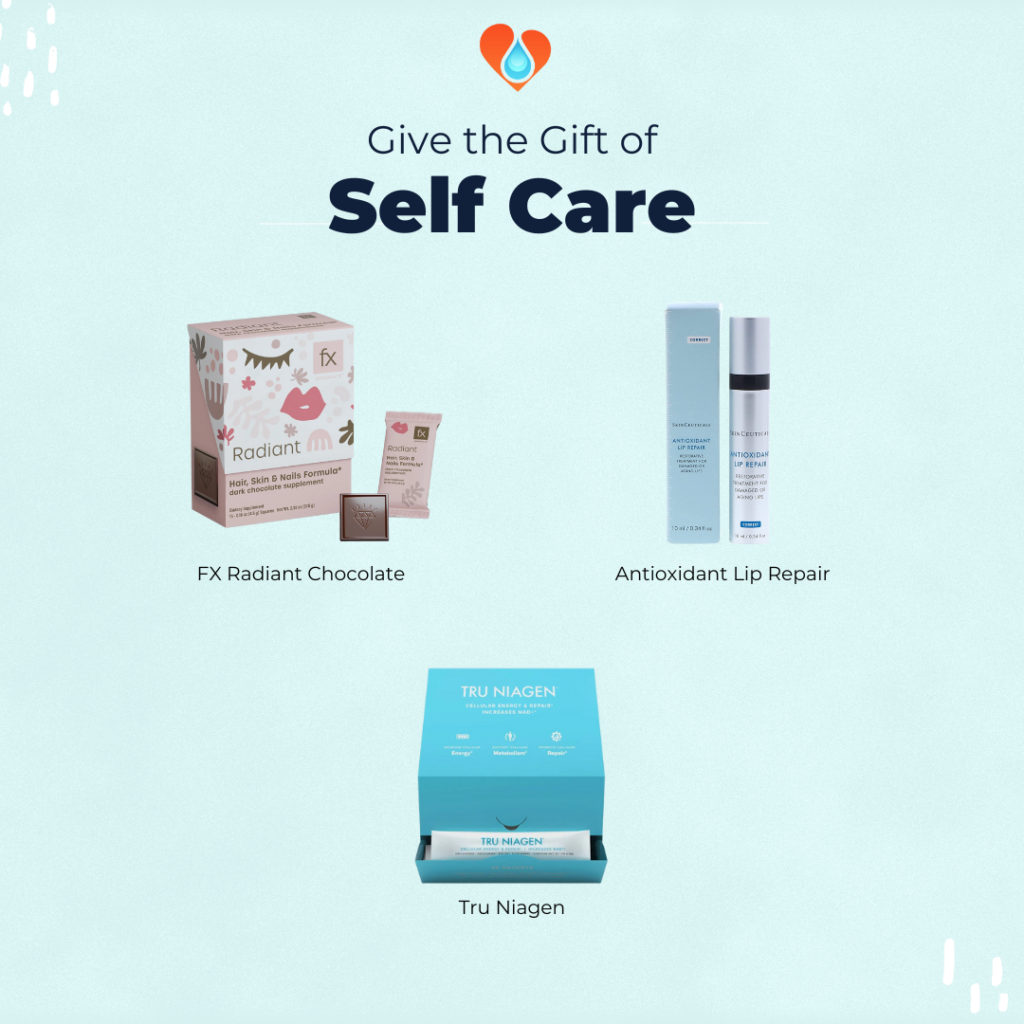 Give the Gift of Self Care
Some of the best stocking stuffers have to be self-care items. At B12 LOVE, we strive to age gracefully, and here are some of our top picks for you and your loved ones.
Fx Radiant Chocolate
Okay, let's be honest. What's better than chocolate that encourages a glow from head to toe? Indulge in a dark chocolate treat that nourishes your hair, skin, and nails from the inside out. Non-GMO, zero sugar, and contains no added soy. So pick one up for yourself and the beauty lover in your family!
Antioxidant Lip Repair
Are you looking for the perfect product to nourish rough and dry lips during the cold months? SkinCeuticals Antioxidant Lip Repair contains two highly effective antioxidants to help promote graceful aging, rejuvenate and relieve dryness. This is a fantastic addition to your self-care routine or someone's special stocking.
Tru Niagen
These handy powder sticks are NAD+ that you can take on the go. NAD+ is a must-have to support healthy aging, energy levels, and cognitive function. (A stocking stuffer, anyone, is sure to LOVE).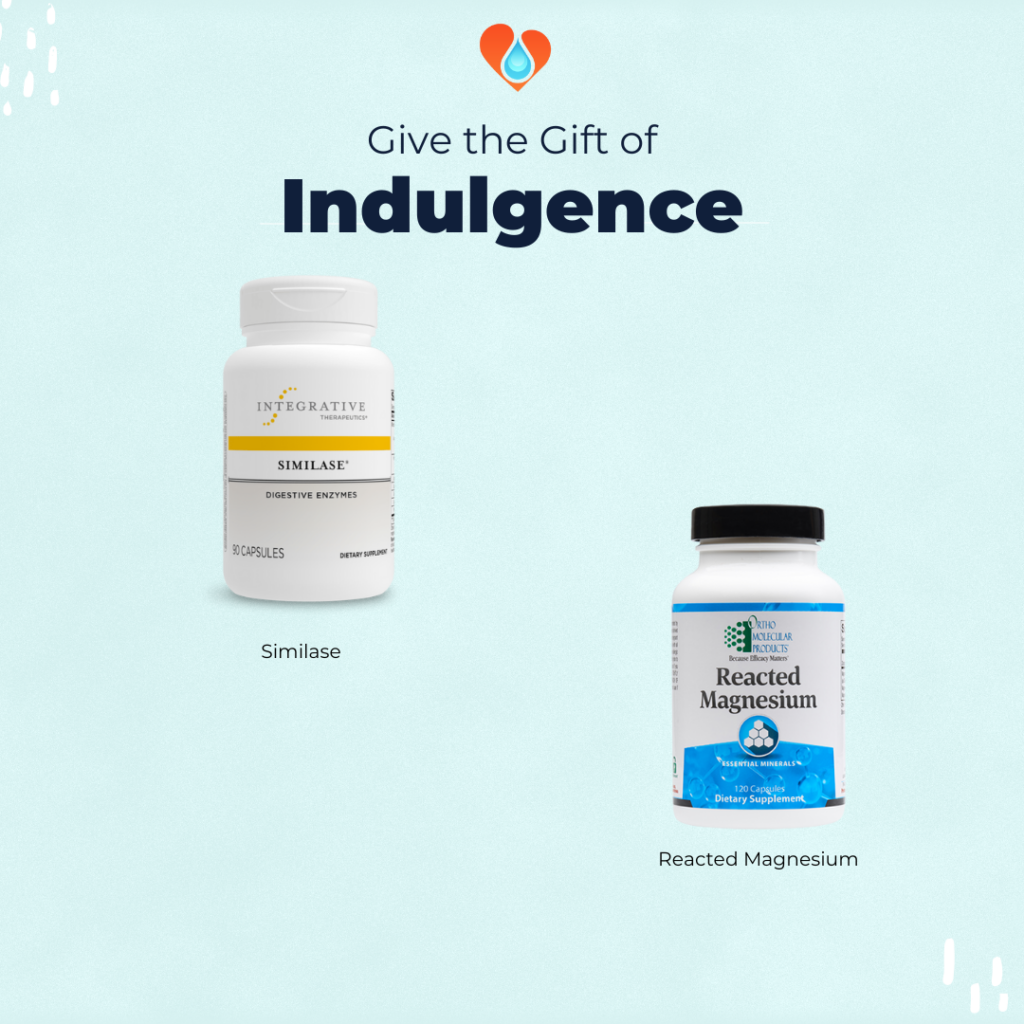 Give the Gift of Indulgence
Why is Winter the best time of the year? Holiday treats! Don't feel like you need to miss out on all your favorite foods this season when you can support your gut health with these carefully selected supplements (and have that extra holiday cookie, too!).
Similase
Similase is a product that everyone should have on hand at every meal. Made up of digestive enzymes to support your body in digesting various foods. A must-have when indulging in your favorite holiday treats!
Reacted Magnesium
Reacted Magnesium includes three different types of Magnesium: malate, citrate, and glycinate. The citrate form may help move a sluggish digestive system or relieve constipation. All three forms come in one capsule making for optimal absorption.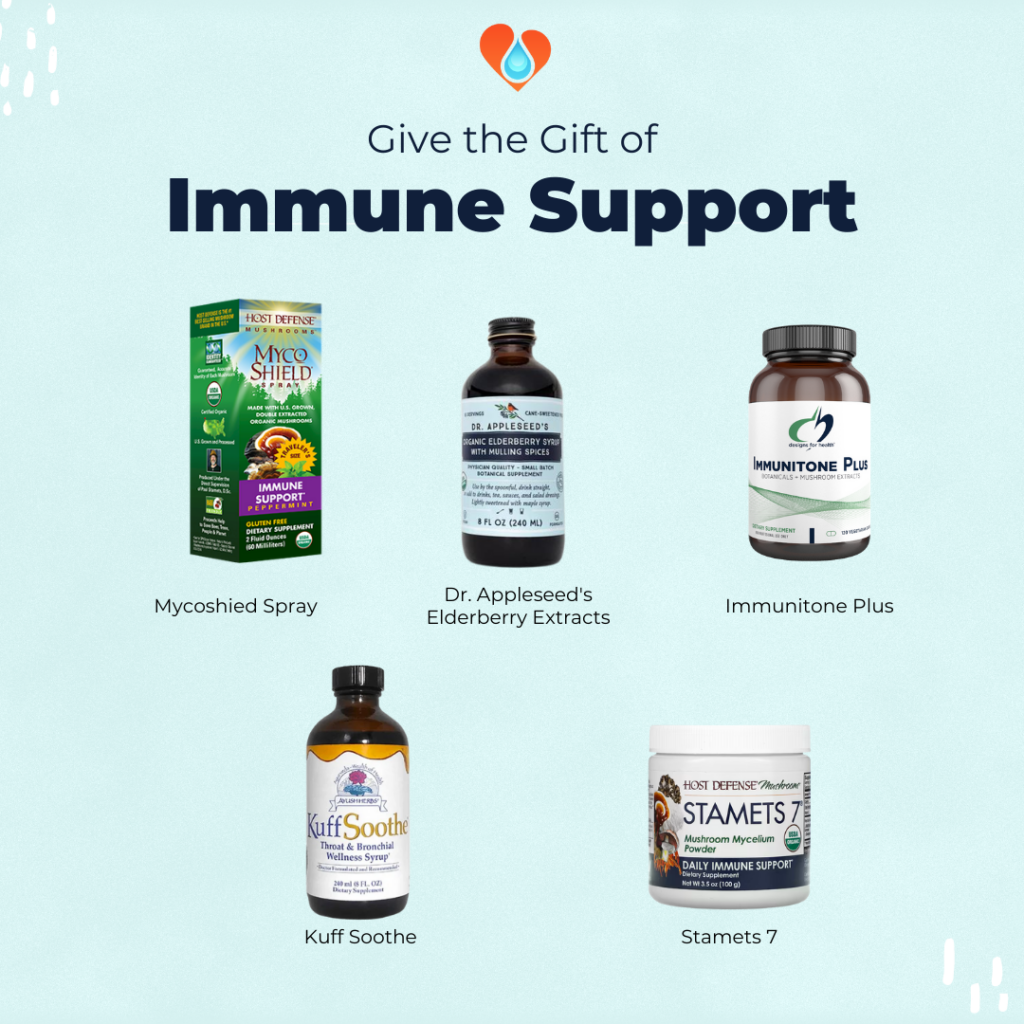 Give the Gift of Immune Support
More now than ever, we are aware of how important it is to care for our own and others' immune systems. B12 LOVE has sourced some of the best products to help keep immune defenses working optimally.
Immunitone Plus
This herbal formula includes mushrooms, green tea extract, and elderberry extract to support a healthy immune system. LOVED by B12 LOVE clients and staff members alike.
Dr. Appleseed Organic Elderberry Extracts
B12 LOVE carries two organic elderberry products from Dr. Appleseed, an unsweetened extract and a syrup with mulling spices. Both products support the body's immune system, soothe inflammation and support healthy aging. Try adding the Elderberry Mocktail to your holiday menu this year!
Mycoshield Spray
The Mycoshield Spray is excellent for immune support. It has a fantastic peppermint flavor and contains five different mushrooms. The liquid form of this product makes it easy to take and allows for optimal absorption.
Kuff Soothe
KuffSoothe is an Ayurvedic herbal liquid to help fight cough and soothe a sore throat. It is a superb natural alternative to OTC cough medicines. B12 LOVE team members keep this on hand during colder seasons to help fight colds, flu, and other illnesses.
Stamets 7
Stamets 7 is a blend of seven species of mushrooms developed to provide effective foundational immune support. Each of the mushrooms in this formula benefits the entire body.
Ready to gift some wellness to your loved ones? Stop by one of our Bay Area Lounge locations.
---
Written by Sydney McClelland, NMA, Esthetician; Holiday gift guide curated by Dr. Tara Levy, ND & Dr. Shannon Wood-Gallegos, ND, B12 LOVE Founder